The United Nations have declared their commitment to achieving the 17 sustainable development goals by 2030.
Sustainability is the future. It is paramount in order to ensure growth and prosperity within the economical, social and environmental realm.
Dr Bragagni has always been aware of the importance of sustainability and of its importance to operating in the world, in every area, to achieve sustainable development. Dr Bragagni has taken part in the COP26 summit where the world leaders have been discussing how to preserve and improve the future of our planet. During the event, Dr Bragagni had the opportunity to meet and discuss with relevant personalities from the world of business and politics how to effectively tackle climate change.
However, Dr Bragagni's participation in the COP26 is only the latest exemplification of its long-lasting commitment to the achievement of sustainable development goals. Indeed, over the years Dr Bragagni has been striving to investigate and to find concrete solutions on how to tackle sustainability issues and make a difference for our world in all the different areas of his competency. Dr Bragagni has been and will continue to be vocal: he has been trying to investigate, spread and promote his ideals among his broad and different network in order to achieve concrete change.
Discover more in-depth each of these areas below.
Dr Bragagni has been researching and writing on sustainability-related issues. One of his most important researches revolves around how to reduce CO2 emissions by changing businesses taxation systems. Instead of taxing the companies for what they produce and sell, Dr Bragagni claims that we should tally the amount of CO2 a company emits in the atmosphere: this could help recover quickly and achieve a green recovery of the global economy.
As an industrialist, Dr Bragagni restructured his company's strategy, Tratos UK Ltd, around a new sustainable strategy that is based on three main pillars: people, planet, and prosperity. The strategy is aimed at achieving sustainable development goals. The company aims to: run a safe, responsible and prosperous business; collaborate with partners, suppliers, and communities to enable long-term benefits; to pioneer human progress through sustainability, low-carbon operations and innovation.
As MSB, Dr Bragagni has led the Lean Mobility project which explores the complexities of mobility and generates a conversation within the IEC community and beyond to find environmentally friendly solutions for resolving complex challenges.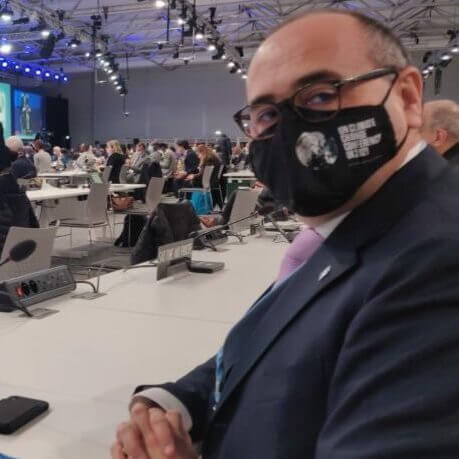 As an Honorary Consul, Dr Bragagni has been promoting relationships between the UK and San Marino Governments to ensure the creation of a greener economy. He was also part of the delegation from San Marino that took part in COP26. The delegation met with leaders from around the world and expressed San Marino's challenges & achievements in tackling climate change, its desire to expand and intensify cooperation with other states, especially in the multilateral context, to favor in particular the financing and implementation of joint projects.