It is with great honour that I announce my recent recognition as a recipient of the King Husein Global Business & Intercultural Peace Award, which celebrates individuals dedicated to promoting inclusivity, diversity, and peace in the global business community. This prestigious award was presented to me at the "Dare to Overcome" conference, held at the Taj Mahal Hotel in New Delhi, India, on October 4th, 2023.
The Awards are named after King Husein, the Founding Patron of Dare to Overcome India. Indian-origin King Husein is Chairman and CEO of Span Construction & Engineering, the largest metal construction company in the U.S. He received the 2021 Global Business & Intercultural Peace Prize in Advocacy. Award winners include CEOs and senior leaders from more than 30 countries on six continents.
Dare to Overcome" is an annual conference organized by the Religious Freedom & Business Foundation. This event serves as a platform to connect individuals and faith-oriented employee resource groups (ERGs) from Fortune 500 companies. The mission of DTO is to highlight successes related to religious freedom and business.
The event was a one-of-a-kind opportunity for business leaders, thinkers, and change-makers to gather and discuss the important values that can influence the future of our organizations. It will always hold a special place in my heart because it highlighted the essential principles that business leaders should embrace to establish an environment of inclusivity, diversity, and harmony within their organizations.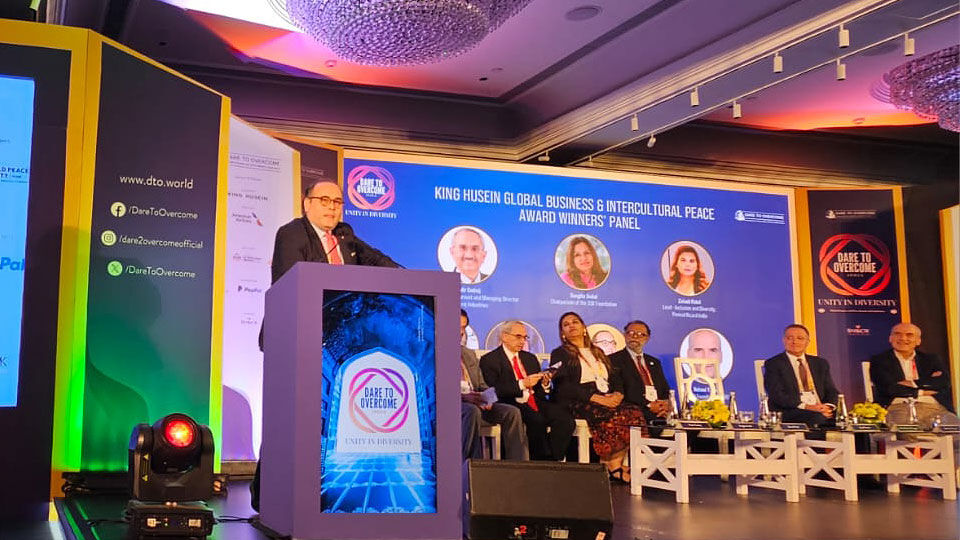 I was thrilled to speak at the Dare to Overcome conference and share insights, experiences, and strategies for embracing inclusivity and diversity in the workplace with like-minded individuals. In a world that is constantly changing and connected, these values are not only praiseworthy but also necessary for the success and longevity of any business. Inclusivity guarantees that everyone's opinions are heard, irrespective of their background or situation. Diversity, in all its variations, provides new insights and enhances creativity. Peace acts as the adhesive that holds everything together, creating an atmosphere that fosters cooperation and advancement.
I was honoured to receive this award in the category of social investment and philanthropy. Above all, it is a recognition of the progress I made at Tratos UK Ltd. I worked hard to strengthen the company's Social Corporate Responsibility and implement its mission of investing in underprivileged regions to help local communities build sustainable and prosperous futures. This recognition was a meaningful journey, and it reinforces my dedication to the values of inclusivity, diversity, and peace that underpin this honour.
I am pleased to mention that this award not only acknowledges the admirable work that has been carried out at Tratos but also gives credit to the Esharelife Foundation. As the Founder and Chairman of this charitable organisation, my main objective is to make a positive impact on society by promoting the idea of sharing life in the digital age. It is a great honour to see our efforts being recognised and appreciated in this manner.
As a recipient of the Global Business & Intercultural Peace Award, I will remain committed to the power of inclusivity, diversity, and peace in the business world. These principles not only enhance productivity and profitability but also contribute to a more compassionate and harmonious society.